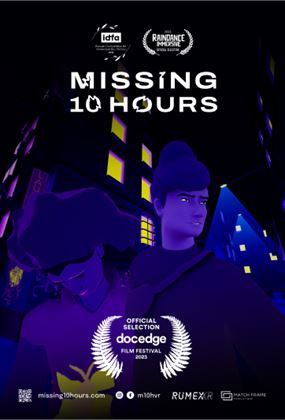 XR Exhibition Wellington Missing 10 Hours Event (FREE EVENT)
Wellington Collection
Fri 16 Jun 5:30 PM
Wellington Doc Edge Pop-up Exhibition
General Admission
120 Mins
You are cordially invited to XR for Change: Untold Stories, an immersive event that showcases a collection of transformative XR experiences. Join us as we shine a spotlight on the acclaimed work "Missing 10 Hours," directed by Fanni Fazakas, which delves into the profound social issue of the bystander effect. Witness the power of collective action as we explore how easily vulnerable individuals can become victims.
Missing 10 Hours is the winner of the XR Impact Award 2023 - Best International Experience.

With special guest Fanni Fazakas,
Te Herenga Waka
-
Senior Lecturer at MDT - Master of Design and Technology
supported by Wellington Council and Urban Dream Brokerage
Immerse yourself further in the thought-provoking narratives of "Diagnosia," which delves into societal pathologies within a military-operated Internet addiction camp.
Also featured in the event are "No Place But Here," a thought-provoking documentary challenging wealth inequality and gentrification, "This is Not A Ceremony," an astonishing cinematic VR experience amplifying Canada's First Nations community's oral tradition, and "Sorella's Story," a poignant reminder of the devastating impact of the Holocaust.
Immerse yourself in these captivating narratives that provoke critical conversations and inspire social awareness. Join us on Friday, June 2nd at the Auckland Central Library, starting at 5:30 PM, for an unforgettable evening that combines the transformative power of XR technology with untold stories that ignite change.
Also Showing
Join us for an exhilarating XR exhibition featuring renowned free-climber Alex Honnold's "The Soloist," immersing you in the thrill of dangerous climbs. Explore personal identity in the whimsical VR experience "Blood Relations," unraveling an ancestral mystery. Experience the moving story of Galup / Lake Monger in an Australian VR film, shedding light on colonial history. Lastly, "Kindred" offers a heartfelt exploration of the adoption system's challenges, fostering empathy and open-mindedness. Don't miss this captivating showcase of immersive storytelling, igniting imagination and provoking meaningful discussions. Step into virtual reality and be transformed
Screens with:
Wellington Doc Edge Pop-up Exhibition